CONDITIONS/FORESKIN
Conditions were absolutely perfect this morning!  Super clear skies with Orion looking down on us (not the constellation…..Orion is the name of the video system that Pothole installed at Depot to make sure the PAX have proper form).  Temps were around 70 degrees and ideal for a pre-boot camp run.   There were some….ummm…interesting discussions this morning on the run, which I'll save a little for the Moleskin below, and much that I'll just need to work through with my therapist next week.
In all seriousness, I don't think there's a much better way to start the day than breaking a sweat with your F3 brothers and laughing your ass off at the same time.  These are some seriously funny dudes.
TClaps to Hokie Pokey, Vlasic, Lap Dog, and Blue Crab for joining for the run today.  All of us but Hokie, who had some "other men's group" he had to run to (apparently it is a GOAT chat thing)…..
….hung around for the #DoubleDown opportunity Boot Camp.  After Hokie departed, the PAX began to roll in with some familiar faces (BoxWine, Milkman, Bellhop, STH, Joanna, Moose) and some visitors (great to have you again Dracula!).
So in the last 2.5 years of F3, I've Q'ed a number of times, and I've seen a few things, but still sometimes the unexpected happens.  This morning was one such occasion as @F3LakeMurray's resident beast Spano pulled up at the one minute warning.
When Spano is around….well…..I'll let Doc Brown say it…..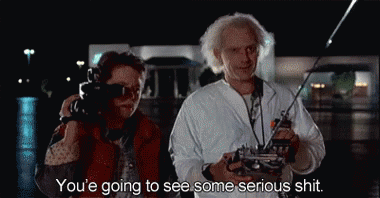 As Q, that definitely raises the stakes a bit, so YHC collected himself….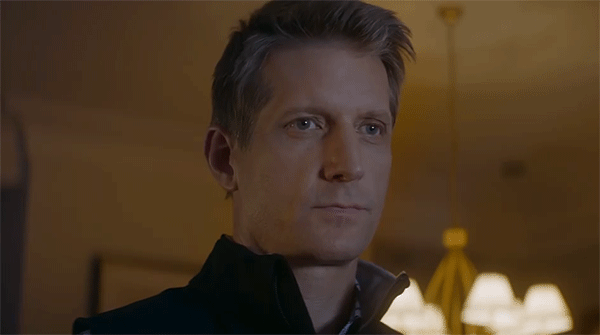 and we jumped right into the Warm Up.
DISCLAIMER/WARM UP
YHC was inspired by Laettner's Thursday Q where we had about 6 minutes of music.  Having also not charged his speaker, he went old school and popped Godsmack's Awake album into his car CD player and we now had a backing track for part of the Q.  Here in it's glory for free, courtesy of YouTube…suck it Lars.
We did somewhat of a non-traditional warm up, but I do think it got our hearts pumping (or at least our shoulders pumping):
Assume the Plank position, we'll start when everyone is ready and stay in the Plank position throughout the warm up
Mountain Climbers x 10 IC
Plank Jacks X 10 IC
Plank
Mountain Climbers x 10 IC
Plank Jacks X 10 IC
Plank
Mountain Climbers x 10 IC
Plank Jacks X 10 IC
Our shoulders and legs were now adequately warmed up so we finished the warm up by:
Mosey to the top of the 2nd entrance, line up at the top speed bump
Bear Crawl to the bottom speed bump (almost 200′ of Bear Crawling, YHC is not sure going down hill made it any easier)
Run to the first entrance, to the brick pile, grab 2 bricks and circle up for Part 1 of The Thang
THE THANG
Being an XL Boot Camp gave us an extra 15 minutes (1 hour total) to get better.  That was plenty of time to explore a little of Depot and try some different stuff.
Part 1 – Fun with Bricks
We do a lot of blockwork at Depot, but the bricks aren't used quite as much.  While they don't weigh a lot (with the exception of the big ones Dracula snagged), with enough reps (i.e. after about the 5th one for YHC) they begin to do their thing.
Brick Overhead Arm Claps x 10 IC
Brick Alternating Front Raises x 10 IC
Brick Tricep Extensions x 15 IC
Brick Overhead Arm Claps x 10 IC
Brick Alternating Front Raises x 10 IC
Brick Tricep Extensions x 15 IC
Drop bricks and recover/repair damaged rotator cuffs by Little Arm Circles X 5 IC each way
YHC's original plan after this was to do a lap with the bricks and move onto Part 2.  Thanks to a PAX who will remain nameless, let's just say his name rhymes with Goose, also I'll leave this right here….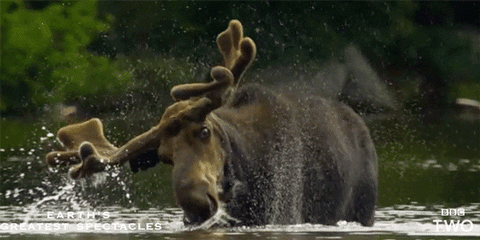 …it was proposed to do some Bear Crawling with bricks.  YHC likes to give the PAX what they want, so we lined up at the light pole on the hill and Brick Bear Crawled to the downhill light pole.
The distance here was much shorter, only 130′ vs 200′, but the bricks did add a little somethin' somethin' to the exercise for sure.  As Blue Crab noted, the sound of the bricks in unison on the asphalt was blissful.  It reminded me of that line in It's a Wonderful Life….I don't remember it exactly….teacher says……
Once the brick bear crawl was done, run to the brick pile, drop the bricks, pick up a block and circle up for Part 2 of The Thang.
Part 2 – Fun With Blocks
After a quick plank on the six we congregated for further instruction.  Turns out either YHC had one Godsmack song on repeat, or really their stuff all kinda sounds the same, but I digress.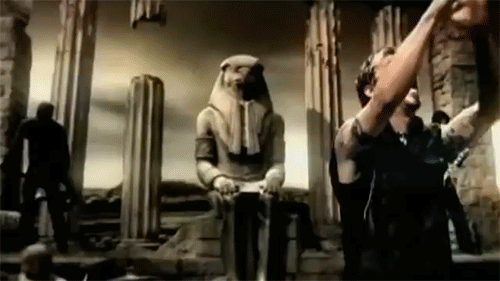 After a brief discussion on the importance of respecting the fairer sex (thanks LapDog), our exercises were as follows:
Rows for the….ummm…Bros x 15 IC
Curls for the Girls x 15 IC
Ring of Fire Overhead Presses with Cusack as the rest position, note you don't get to do your rep until the PAX before you goes (rotate clockwise) – x 10
Recover by quick mosey to bottom of the hill and back
Rows for the Bros x 15 IC
Curls for the Girls x 15 IC
Ring of Fire Overhead Presses with Cusack as the rest position x 10
Some #mumblechatter about form and the IronPax challenge reminded me of a previous Pothole Q where we did low squats on our block (aka Ass Squats).
Ass Squats (block is behind you, squat low enough such that your six touches the block…..could have named them Six Squats, or Sit Squats, but Ass Squats seemed more appropriate with this crowd) x 10 IC
Cusack your blocks to the playground for Part 3
Part 3 – More Fun with Blocks
Here we partnered up for some flapjack exercises as follows:
PAX #1, on his back starts 100 Chest Presses with the block, while PAX #2 does 10 pull ups (modify as needed), flapjack, rinse and repeat until 100 Chest Press reps cumulatively are done, Plank on the six.
PAX #1 starts 100 Big Boys, while PAX #2 does an Arm Hang from the playground until he is smoked, flapjack, rinse and repeat until 100 reps cumulatively are done, Plank on the six.
PAX #1 starts 100 Kettlebell Swings (aka Block Swings), while PAX #2 moseys to the benches and does 10 Dips , flapjack, rinse and repeat until 100 reps cumulatively are done, Plank on the six.
TClaps to Boxwine for demonstrating great form on this one and Spano giving us the Standard.  You should be able to see under your block, i.e. get it above your eye level. #TheStandardIsTheStandard
Return their blocks and circle up for some "Mary" (quotations intentional).
"MARY"
We did dealer's choice for "Mary", which can always be dangerous…..will the PAX think of an exercise…..will it actually be a Mary exercise…..you just never know when you give the PAX a little autonomy what will happen.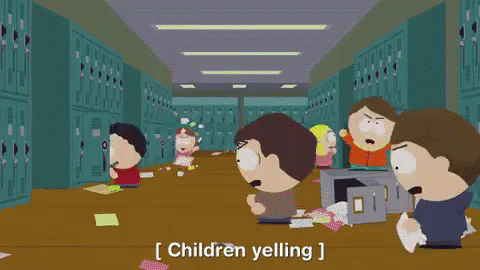 YHC – Burpees x 5 OYO in honor of the Burpee train
Moose – American Hammers x 30 IC (note 30 isn't a typo….the fact that he could do this many makes me think he was sandbagging a little earlier)
Blue Crab – Merkin Ring of Fire X 10
Spano – Partner up and do an Iron Cross game.  The standing PAX gets 20 tries and gets a point for every time he's able to push the other PAX' legs and make them touch the ground.  After 20 tries, switch positions.  Whoever has the most points wins and the losing PAX does 5 burpees.  YHC partnered w/Moose.  YHC did 5 burpees because #physics.
Milkman – Spider Man Merkins x 10 OYO
BOM, COT, conclude BC.
MOLESKIN 
Duty calls, so keeping this short for today.  We had another great turnout for a Saturday (especially on a holiday weekend) at Depot today!  Bigger numbers makes bigger #mumblechatter and today was no exception.  Now that school is over, I'm really hoping that our numbers continue to grow.  I'm also excited that we have some great recent additions to our Depot group with Shredder, Lunchable, and Joanna (apologies if I missed anyone else) joining over the last few months.  These guys are becoming regulars and I look forward to seeing what F3 will do for them, and them for Depot as we go.
Ok, quick anecdote from our run this morning as I'm sure you're dying from suspense.  YHC started a conversation about a podcast he listened to that espoused the virtues of psychedelic drugs (ecstasy in particular) in curing various mental issues.  This led down a rabbit hole of conversation around the effects of smoking dried bedbugs and later to modern art, who likes it, and who can afford it.  It was a leap to tie those things together, but we did it.  Ask Lap Dog if you have any questions, he has the "hook up".
It would be funnier if you had been there, so next time be there so you can enjoy the laughs as well.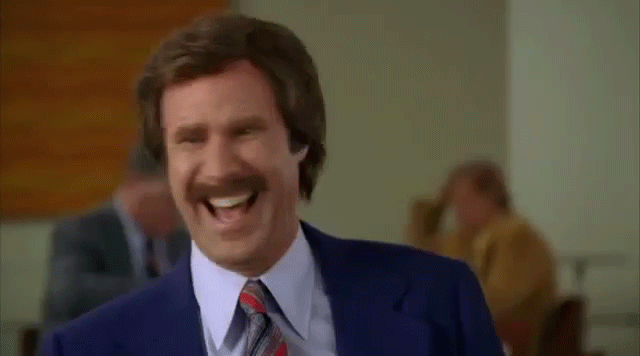 ANNOUNCEMENTS
Monday 9/2/19 – Potentially special edition of handball.  Keep an eye on Twitter if interested.  Follow @F3TheOcho for details.
Tuesday we have Hostel on Q for a 40th Birthday celebration.  We also have Hurricane Dorian bearing down on the US.  Stay tuned to the Twitters to make sure we are a go.
F3 Lake Murray 150 and Back to School Challenges.  See the pre-blast below, but here is the upshot of it:
If you've been tracking your posts all year, make sure to send them to @F3LM150 for an updated leaderboard event.  Also, if you haven't been as diligent posting (or tracking your posts), there is still some glory (aside from getting ripped and gaining better mental clarity) to be had.  Starting tomorrow (Sept 1st) we have a new challenge to get 50 or more posts balance of year.  Same deal, post your stats to @F3LM150 and we'll have a leaderboard there as well with recognition for PAX and their AOs.  While it is you vs you, it's also you representing your AO, so make it happen!
F3 Iron PAX – This is an event put on by F3 Greenwood.  It is a competition to see which PAX in the F3 Nation is the Iron PAX.  It is also a region vs region competition and the more PAX you have the higher the potential score for the region. This kicks off next week, but there is still time to sign up.  Sign Up!!!
F3 Greenwood Iron PAX Link – click me!
Neck Brace is still looking for a few good men to volunteer to take various roles within F3 Lake Murray.  If you are interested, reach out to him for more details.  You won't regret it.
The September Q sheet shows an All Star cast and even a VQ by Tramp Stamp!  We also get to see how the boys in Blythewood do it as Shredder does his first Depot Q.  Lots of good things in store for Depot.  If you've been waiting to get back into the gloom, now's the time!
9/3 – Hostel birthday Q, come celebrate the big 4-0 w/Hostel!
9/5 – Arrears Atlanta story time session
9/7 – Bellhop – Who will be the first guest on the Jack Secret Show?
9/10 – Chubbs – "Damned alligator bit my hand off"
9/12 – Pothole returns and reviews Orion footage w/PAX
9/14 – STH – Will their be Cusacking???

9/17 – Shredder – Bringing the F3 Sawmill to Depot

9/19 – Moose –  Closing in on Arrears

9/21 – OPEN

9/24 – Trampstamp VQ – VQ Alert, Hell Yeah!!

9/26 – Lumbergh –  Return of Lumbergh means #BoatCanoes #Chicken N' Waffles, and maybe even some #PoleTouching

9/28 – OPEN
Let's fill those open dates men.  Link below to sign up to Q:
Reminder – the Ocho on Sunday's at 8 PM, @F3depot.  Handball….#America'sGame
Reminder – coffeeteria following Boot Camp (aka the artist formerly known as Handball) on Saturdays, 0630.  Chick-Fil-A is the usual spot for this.
Run groups – Options galore for the PAX!
Swagger – Monday at Little Caesar's on St. Andrews (0530 am), and Wednesday behind Starbucks on Harbison (0530 am), now officially on the twitters @f3swagger, give it a follow!
Twilight – Tues/Thurs behind Spring Hill High School (0430 am…no, that's not a typo), @f3twilight
Stagger – Wednesday at Ballentine Elementary (0530 am), @f3stagger
Donut Run – Friday at Lake Murray Blvd behind Dunkin Donuts (0515 am),
401k Run – This has been shut down for the summer due to #SCWeather, but will be be back soon enough, follow – @f3_401k_run for details
Preakness – Join the #Clydesdales on Wednesday's (and sometimes other days) at 0530.  Location moved to the Lake Murray Dam.  See Soft Toss for details.  @CaseyEstridge
Saturdays – Just run at handball OR someone is always training for something somewhere on Saturday mornings, DM me or @F3LakeMurray and we'll hook you up!
PRAYER REQUESTS
Prayers for all of those in the path of Hurricane Dorian.  Special prayers for Vlasic's parents who live along the FL coast.
Prayers for those PAX who haven't posted as much this summer.  Let's get those men back out in the gloom and back into a state of #acceleration
Unspoken
TL:DR
Smoking Bedbugs>Illegal Substances>Herbal Remedies>Herbal Essences>Over the Counter Meds>Brick Bear Crawls
SYITG!