9 Pax posted to celebrate a couple of occasions.  364 days ago. a group of pax decided to make this AO called Tread with a combo of Ruck or Run with Kettlebells Official.  What a year it has been.  Sunday mornings in the gloom have become some of YHCs favorites, and probably some other pax would agree.
Today also marks 15 years since YHC became a dad.  So in honor of our fellow Pax and Groundhog day. There were a lot of Repetitive 15s. 
A great way to start this Sunday off right by #Accelerating one's #King. Here is what went down:
Conditions: 40s with a sneeky cool breeze
The Thang:
Disclaimer – BOM and Prayer
Couple of Flatbackers took off to get some miles in while the rest of us mozeyed up the entrance Ramp and Back down and around the parking lot a couple of "repetitive" times.  YHC told the pax they would understand later.  Here is what it looked like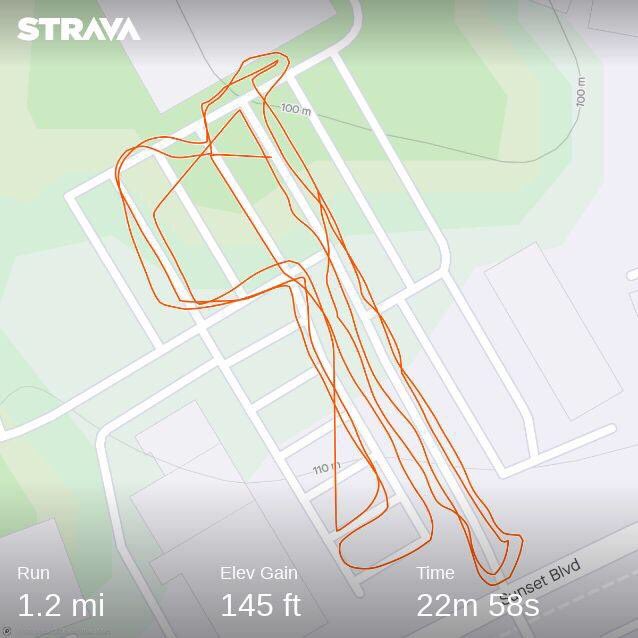 If you turn it sideways and squint your eyes, you might be able to see the # 15:
Maybe?
Ok moving on.  For the KB Portion, here is a little method behind the madness.  The workout would be broken into 3 Rounds, as follows:
Round 1 – 8:20 on the clock

Dead Lift x15
Lawn Mowers x15 each arm
1 Arm Clean and Press x 15 each arm
Upright Rows
Bigshows x7 Each side… (Ok, had to modify, only 14 total… I'll get over it)

Round 2 – 8:20 on the Clock

Flutter Kicks with KB extended x15 IC
American Hammer with or with KB x15 IC
Chest Press x 15 IC
Nutcrackers x 15OYO
Big Boy Simbas x15 OYO

Recover with KB swings x15

Extra time
Frozen Flutters w/ KB x 15 IC
American Hammers no KB x 15 IC

Round 3 – 8:20 on the clock

Squats x15 IC
Curls4Girls x15 IC
Shoulder Press x15 IC
Tricep Ext x15 IC
Tay-Palm x15 IC
So there you have it 15 difference Exercises with 15 Reps.

Also the was one recurring exercise between these listed above. Kettlebell Swings x15, signifying 1 year of Tread.
<YHC turns Gumby over to Tater to open up The Forge and get the Coffee started>
COT
Announcements:
Prayers:
DD – Home now
Booster – Molly
CHHeddar – Cameo
CHHeddar – CoWorker Pregnancy
Swanson – M's Friends Daughter Adrianna
YHC – Coworker