Today was a special bootcamp. I won't rehash everything I said in the preblast, but I was absolutely blown away by the support for Faye shown by the men of Detention, the men of the other F3 Lexington AOs, and the men of F3 Nation across the country.  Thumbs Up put together a slideshow highlighting many of the pictures that were sent in using the #F3forFaye hashtag. It only takes a couple of minutes to watch, so take a look when you can. On to the workout…25 of Lexington County's finest got out of the fartsack this morning, put on their brightest and most colorful shirts (including YHC's purple shirt that looked a tad darker in the gloom…) and chose the harder thing.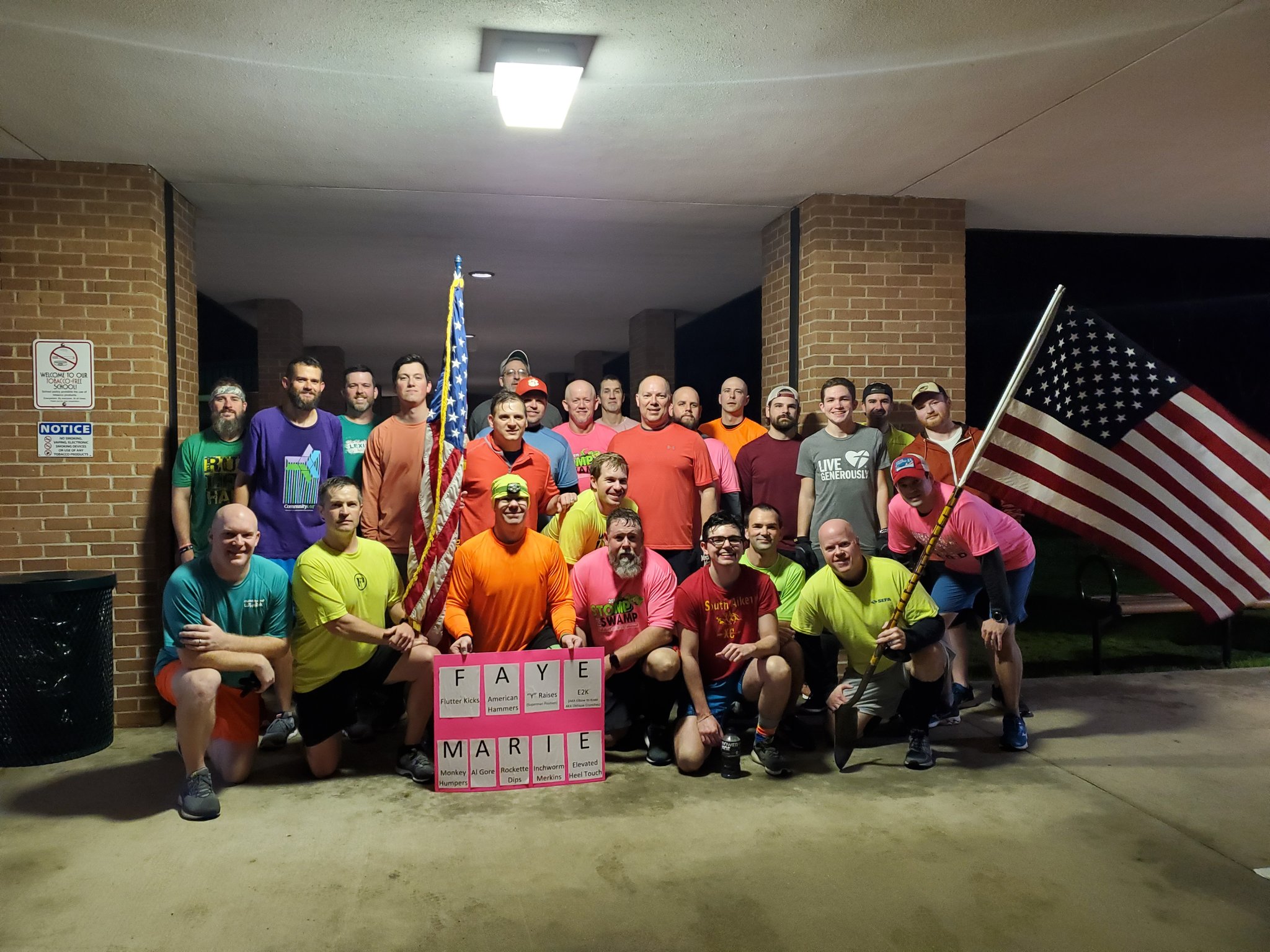 Here's how it went down:
WEATHER
Mid to upper 50s. YHC checked the radar at 4am and the rain had just moved out of the area, leaving us nice and dry!
STRIDELITE
8 PAX showed up and got some miles in! #P200iscoming
DISCLAIMER/PRAYER
WARM UP
Circle up in the front parking lot
COP
SSH x 15 IC

Windmill x 15 IC (Very beneficial if you do it right!)

Imperial Walkers x 15 IC

TTT x 15 IC
THE THANG
Mosey to the front awning and partner up
I wanted to do something to honor Faye's memory, so yesterday I went out to Hobby Lobby and picked up a bright pink posterboard. In true F3 fashion, I made up a workout using the letters of her name, "Faye Marie".
Partner 1 performs AMRAP of the first exercise (F) while Partner 2 runs the big parking lot lap. When Partner 2 returns, he performs the first exercise while Partner 1 runs a lap. Then Partner 1 performs AMRAP of the second exercise (A) while Partner 2 runs, and so on until her name is complete. For those beasts that finished, they started back over on the F. Here are the exercises:
F – Flutter Kicks
A – American Hammers
Y – Y raises (superman position) (Yes, these are real. You'll notice the Detainees walking around with strong upper backs this week.)
E – E2K (AKA Elbow 2 Knee AKA oblique crunches)
M – Monkey Humpers
A – Al Gore
R – Rockette Dips (alternating leg kicks at bottom)
I – Inch Worm Merkins
E – Elevated Heel Touch
Most, if not all PAX, completed her name. We wrapped up a few minutes early so we could have Name-O-Rama and Announcements before any guests arrived.
RECOVER
COT
ANNOUNCEMENTS
Northside Sportsmen Banquet – Thursday 2/27 – Volunteers needed to man an F3 table. Thanks to Deebo for stepping up, but we could still use a few more.
F3 Lexington 6 Year Convergence – Saturday 2/29 – 6:30am at the Football Field at River Bluff High School. New Nan'tan to be named, so be there!
PRAYER REQUESTS
Faye's family, classmates, teachers, officers, and first responders
Columbo's career transition
BOM
This was a very special BOM, as non-F3 folks were also included. YHC put out a call to local law enforcement agencies and first responders with the offer that the men of Detention would like to pray for them at 6am this morning. Understandably, that's a tough time, as it's around shift change for most folks, so I wasn't really sure what to expect. We did have two officers from the Town of Springdale Police Department, one of which was Faye's School Resource Officer, join us during this time. We also had Columbo (Forest Acres PD) and Deebo (EMT) in attendance.  The men of Detention formed a circle around these men and women and Postal led us in an amazing prayer for them and all the others who were unable to join us. It was a moving moment and thank you to the officers for joining us and allowing us to do that for you. It can't be easy just to roll up in a parking lot and be surrounded by 25 sweaty smelly men!
MOLESKIN
Just saw raw thoughts I wrote down yesterday when thinking about this workout and the grief that folks may be dealing with. As men, we typically grieve alone so as to not to "bother" others or seem less manly. This is not healthy. If you are grieving, talk to others. If you are LEO – reach out to SC LEAP. If not, find a group like F3 to talk with. Grief doesn't last forever, as we come out of the grieving period, focus on the positives. For example, the Rocks for Faye movement focuses on something she loved and uses that to bring happiness into someone else's life when they find the rock and discover what it's for. God has a way of turning a tragedy into triumph and touching the lives of others, but He can't do it alone, we are His hands and feet.
Once again, I'll leave you with a quote from Faye's mother, Selena Collins
"So long as we can love one another, Faye's memory will carry on. So I ask of you that when you leave here and any time you have a chance to, to love a little more, to be a little bit more kind, to compliment a stranger, to dance in the rain, to stop and smell the flowers, show just a little bit more love to everyone you meet, and just have a Faye day."