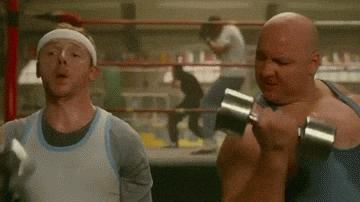 9 men of Boneyard posted this morning after depriving themselves of sleep last night. We all stayed up much too late to watch Clemson annihilate Alabama to win the National Championship (of which, Chum continued to remind us throughout the morning). As a Gamecock, the only thing that was good about the win from Clemson is that they were winning so convincingly by the end of the 3rd qtr, YHC was able to get to sleep early. No orange was worn (except for Chum) BUT, a tip of the hat was given to Tiger Nation as much of the exercises were counted to "15" for their 15-0 season.
Great work, men. Thanks for the honor of leading today.
Conditions – Upper 50's (slightly chilly) but dry
The Thang
OMW, Time called, Disclaimer, Prayer
Warmup (all exercises IC x 15)
SSH
Squats
LBACs (f/r)
Raise the Roof
LBACs – forward with thumbs down/reverse with thumbs up
IWs
10 Burpees (OYO) – crowd pleaser
Mosey to block pile (Equip each pax with CMU)
BLOCK PARTY
All pax line up across parking lot and plank for 6
Merkins x 10 OYO
Cusack carry block forward about 10 yards and plank for 6 (R&R the above after each exercise) all exercises x 10

Block Squats
Curls 4 Girls
Block Burpees (x10 OYO)
Lunge walk
Iron Crosses with block
Chest press
Plank-o-rama
BBSUs
Iron Crosses
Wall o' Fire
All pax on wall in People's Chair position
each pax take turn & perform 10 merkins until all have completed
All pax on wall alternate arms up/arms out (OMC)
Farmer Carry
Pair up
1s – farmer carry blocks to curb and back
2s – perform squats
Block Party (cont.)
Iron Crosses
BBSUs
Block Squats
Mosey to Block pile and put up CMUs & then mosey to Shovel Flag
Calf Raises x 15
Plank-o-rama
R leg up
L leg up
R arm out
L arm out
Bird Dog (R arm/L leg out)
IWs for last minute
TIME
Pledge of Allegiance
COT
Announcements
Chum: ICYMI, Clemson won last night…
Prayers
Comfort for POTUS' family on death of his niece
Co-Pay's fellow worker's husband (woke up and lost vision)
Snow Family (Mandy fighting pancreatic cancer)
All Lexington pax
Closing Prayer led by YHC followed by Lord's Prayer (all pax)
#Kotters – Keystroke posted today for the 1st time in over a year!! Great job. Keep coming back, brother.
DEVO (from www.guideposts.org)
Plan a 'Worry Hour' to Help Ease Anxiety
If you have difficulty letting go and letting God, try this.
"Who of you by worrying can add a single hour to his life?" —Matthew 6:27 (NIV)
Worrying. I think I got it from my dad. "If I'm not worrying," he used to say, "I don't feel normal!"
A few years ago, during an especially stressful time, I admitted to a friend that worry was robbing me of sleep, distracting me from important work, even invading my relationship with the Lord.
My friend told me about a technique her own father had developed to conquer worry. "Dad set up a daily 'Worry Hour,"' she explained. "When anxieties nagged at him during the day, he jotted them down and promised himself he'd deal with them at five P.M., when he'd set aside a full, focused hour to do nothing but worry. But he never actually got around to worrying. At five o'clock each afternoon he'd look at his Worry List and think: This is ridiculous! What good will it do to spend an hour feeling miserable? And he'd throw away his list. He claims he hasn't wasted five minutes worrying since then."
That afternoon I started my own Worry List, promising myself that if the items on the list still seemed worth it at five o'clock, I'd do some high-octane worrying. Guess what? When five rolled around I was just like my friend's dad—having such a good day that I couldn't bring myself to spoil it! So I prayed instead, leaving my worries exactly where they belonged: in the Lord's capable Hands.
If you're worried about something right now, why not set aside your own "Worry Hour." Then pray:
Lord, today I'm going to write down my worries instead of letting them control and ruin my day. Then, at five P.M., I'll decide whether they're better off in my hands—or in Yours.