YHC heard the need of a call to the bullpen for a replacement Q at #Depot and I was more than willing to give the pax another MasterClass in plyometric intervals aka Magoo's Dance School by some of the #mumblechatter.  We were also joined for the disclaimer by R2D2 and the new core workout #Derailed which I think gained a few more "injured" pax when they realized it was me and not Nail Pop about to deliver the beatdown.
Legally I must acknowledge that all my moves were blatantly plagiarized from Insanity and Insanity Max 30, so if you don't like them don't blame me, blame Shaun T.  Also to note, I may have had the biggest #weinke ever today, thanks to a late night planning and scouring over youtube videos I couldn't possibly remember the sequence of moves.
Conditions: Cool and dark.
The Thang:
Warmup: Double Applesauce Indian Run around soccer fields then circle up in upper parking lot.
Cardio Interval sets:  3 exercises, 30 sec each, Rinse and repeat 3x followed by 1 min recover
Set 1:  Squat Thrusts/ Wide Squat Thrusts/ Pushup with punch at top
Set 2:  Jump Squat touch alternating feet/ Squat alternating kick/ Lateral Jump Squat w/ punch
Set 3:  Squat Thrusts to Plank Jack/ High Knees/ Burpees into Jump Squats   *Thrusting Jacks were quickly renamed by the pax to Thrusting Jills #cobains to any Ms named Jill
Burpee Train a LOOOOOOOONNNNNGGGGGGG one.
Set 4:  Chair Squat to floor touch/ Iso Jump Lunge R leg/ Iso Jump Lunge L leg
(Chair position snuck a little yoga in there.  I think one day I'll do a total F3 yoga workout, can't wait to hear what you guys say about that one, insert FiA joke here)
Set 5:  Crab position touch alt. legs/ Crab position dips alt. leg up/ Carolina Dry Docks
Finished with a little leg abductors 15 reps front, middle, behind on each side.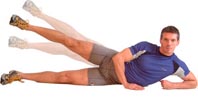 All you got to the shovel flag.
COT and BOM with #Derailed pax
Moleskin: YHC had a good time bringing a little insane cardio to the Depot pax. I think a good deal of sweat was spilled and no merlot.
Announcements:
Workout at Depot will occur on Christmas morning for all pax that can attend Speedtrap and most likely Foxhole will be converging
Make my Day 5k and 12k is February 14th.  Look for pre-blast soon with discount code for registration.