Amidst the swelter, the moist heat of a @F3Columbia summer, seven men bested the Monday #Fartsack in order to poke and prod their bodies into sharper bipedal machines.  That is, we ran four miles, one of them down Devine Street.
Conditions:  Holy crap it's hot and humid.
TheThang:
The map is nearly worthless if you don't have some guidance but perhaps it's a little more helpful than not: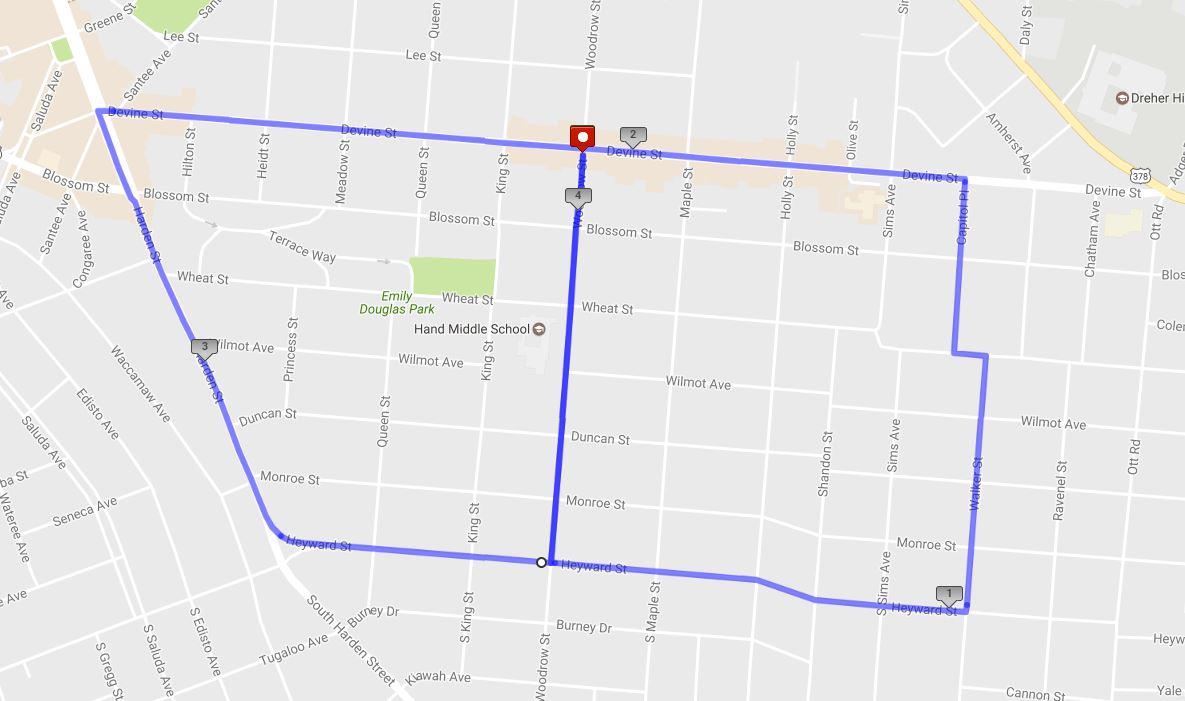 Keep in mind, every turn was a left hand turn (except for the chicane between Walker and Capitol). So, out of Shandon Pres, the pax headed south on Woodrow, turned left onto Heyward, Left onto Walker and left onto Wheat.  That's where we had to a take right onto Capitol just because streets don't line up.  Left onto Devine for the one mile descent to five points.  Left up Harden and again up Heyward to the return stretch on Woodrow to Shandon Pres once more.  4 miles on the nose with a perfect #MyMile opportunity from Capitol to Harden down Devine.
COT & BOM
Other Stuff (Announcements & NMM):
F3 Dad's on Friday, 7:30 at Dreher.  Great 2ndF Opportunity over the summer.
#StrongFathers Combine tomorrow and every Tuesday at Drip in 5 Points.  This being the halfway mark of the year, it's a great chance to get plugged in or rejoin the collective effort to get better as fathers to our little girls.
#SwampFox four year anniversary is Tuesday week.  If you don't know the history of F3Columbia, SwampFox was the first local bootcamp expansion workout as Brickpile busted at the seams.  Four years is a long time and worthy a little celebratory hoorah.
BullsEye Half Marathon is July 15th.  If ever there was a bad idea, this one's it.  I expect some #Ramble #Faithful to be on hand.  Whether anyone can actually finish the 14+ lap course is a wild guess at this point.
Aye,
F'head