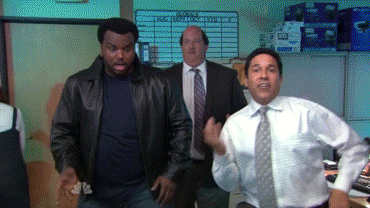 YHC celebrated another trip around the sun with the pax from Graveyard this morning. Nothing better to start your 49th birthday than a block party beatdown. Still no respect but fun was had and all got better today at Graveyard.
Conditions: 62 deg and clear (IDEAL)
The Thang:
OMW, Time called, Prayer
Mosey to Press Box
COP (all exercises IC x 15)
SSH
Windmills
Imperial Walkers
Merkins
Squats
Through The Tunnel
Iron Crosses (x20 OYO)
Mosey to block pile and get blocks
Plank until all equipped then 10 merkins OYO
People's Chair on columns with Blocks (OMC)
Farmer Carry Ball Bag Relay
Split into two teams
1st pax will farmer carry blocks approx 30 yards and grab a ball from one of the bags and return
Waiting pax will perform exercise while waiting (plank, people's chair, IWs, squats, etc)
Upon return, all pax perform exercise shown on ball (x10)
Complete until all
Exercises included

Carolina Dry Docks
Hand Release Merkins
Shoulder Tap Merkins
Burpees
BBSUs
LBCs (for Spackle, of course)
Mountain Climbers
Block Party
10 merkins OYO
Curls 4 Girls
Cusack Carry block about 20 yds
Squats with block
Cusack Carry
10 merkins OYO
Cusack Carry
Iron Crosses (x 20 OYO)
Cusack Carry
Bent Over Rows
Cusack Carry
Incline Merkins
Step Ups
Each pax grab a spot in front of bleacher
Step Ups – right leg (x20 IC)
Step Ups – left leg (x20 IC)
Put away blocks
Mosey to end of pressbox and grab frisbees
Frisbee Relay
Split into two teams
Pax alternate thrower until all have gone
Target was men's restroom door about 40 yds away
perform 5 squats before each throw
Winners – plank
Losers – BBSU's
Frisbee Scramble to "virtual" Shovel Flag
Split into two teams
Alternate thrower
All pax perform 5 squats before each throw
First team to hit tree and Startex wins
Winners – plank
Losers – BBSUs
Mary
Plank
Ray Charles
Plank – Left arm up/Right arm up
Iron Crosses (x 20 OYO)
Bird dog Plank (Right arm-left leg up/Left arm-right leg up)
IW's
Time
Announcements
Ultimate Frisbee on Saturday 0700-0800
Cross Ruck Friday morning  0400-0615 – meet at parking lot at right of stadium entrance
Prayers
GoodHands' coworker's husband passed away – prayer for comfort & peace for her family
GraveDigger's daughter
Prayer
DEVO
Living Sacrifices
"Romans 12:1–2
And so, dear brothers and sisters,* I plead with you to give your bodies to God because of all he has done for you. Let them be a living and holy sacrifice—the kind he will find acceptable. This is truly the way to worship him.* 2 Don't copy the behavior and customs of this world, but let God transform you into a new person by changing the way you think. Then you will learn to know God's will for you, which is good and pleasing and perfect–Romans 12:1-2
Sacrifice is something most people never even consider, let alone complete. Let's consider what it is to be a living sacrifice.
At the time of this writing by Paul, sacrifices were usually killed and laid upon an altar to be burned. The problem with "living sacrifices" is that they tend to crawl off the altar when it gets a little hot. We start with good intentions of making a sacrifice for our friends, our family, or career, but when it gets uncomfortable we often snatch the sacrifice from the altar and lose the reward that comes from faithfulness.
The good news is that God's grace enables us to offer our very bodies in daily service to Him. He calls it holy, pleasing service that is a spiritual act of worship. We must let God's grace move us to sacrifice whatever it takes to pursue a life "holy and pleasing" to Him.
1 Peter 1:14–16
14 So you must live as God's obedient children. Don't slip back into your old ways of living to satisfy your own desires. You didn't know any better then. But now you must be holy in everything you do, just as God who chose you is holy. For the Scriptures say, "You must be holy because I am holy."*
Closing Prayer
Heavenly Father, I ask for Your forgiveness for the times I have failed to place myself and remain on the altar. I want a lifestyle that is pleasing to You and brings glory to Your name. Show me how to offer my body as a living sacrifice today—a sacrifice that is "holy and pleasing" to You. Renew my mind today so that I may discern what is good. Amen.