So the idea of getting three men together that were all in slings came about and of course had to become a reality. How hard could a Q be coming from three broken Q's??? The amount leg trembling and calf explosions quickly answered that.
Also, scented trash bags keep you from smelling funky during a workout and keep everyone else from smelling funky.  Additionally, they keep your only sling that you own dry.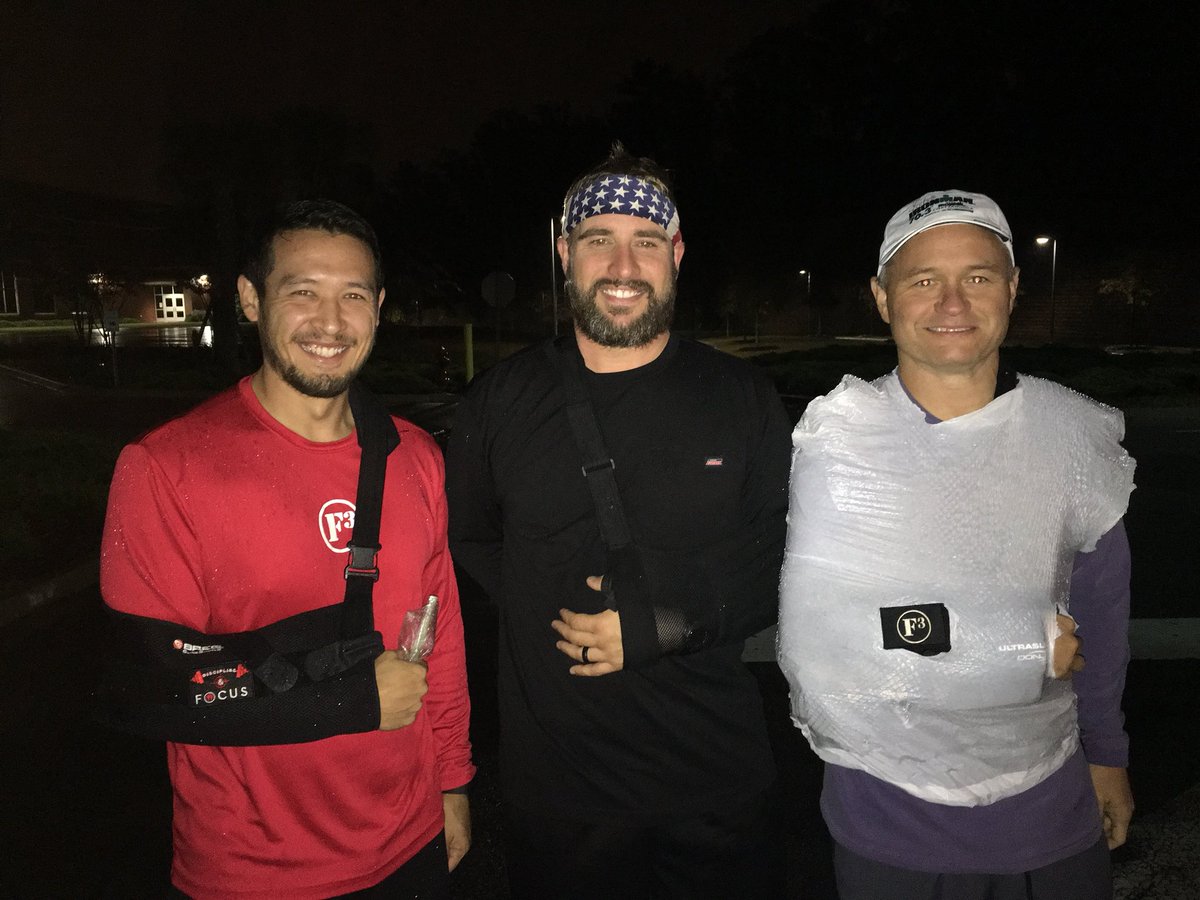 Weather: High 40's and Moist™
The Thang:
Disclaimer, prayer (by Postal)
COP
Alt Lunge x 10 IC
Squat x 11 OMC
Alt Lunge x 17 IC
Calf Raises x 75 IC
10 Nov 1775, birthdate of the Marine Corps!
Lunge over to wall for some Shake and Bake time
Wall sits x 60 sec
Calf Raises x 74 single count (modified to more Wall Sits)
Wall sits x 60 sec
Calf Raises x 74 single count
Wall Sits x 60 sec
Calf Raises x 74 single count (Modified to Imperial Walkers)
Wall Sits x 62 sec
Calf Raises x 77 single count
242nd birthday, 299 Marines have earned the Congressional Medal of Honor
Lunge around to the front entrance to go Postal
Squat x 10 OMC
Air Chair x 11 sec
Squat x 19 OMC
Air Chair x 81 sec
Cpl. Jason Dunham, first Marine awarded Medal of Honor during the Global War on Terror. Born 10 Nov 1981.
Squat x 17 OMC
Air Chair x 10 sec
Squat x 19 OMC
Air Chair x 89 sec
Cpl. Kyle Carpenter, South Carolina native awarded the Medal of Honor from actions in Operations Enduring Freedom. Born 17 Oct 1989.
Lunge over to the other side for No Help
Squat x 10 OMC
Calf Raises x 10 IC, rinse and repeat both x 7
Alt Lunges x 10 IC
Calf Raises x 10 IC, rinse and repeat both x 4
Squat x 19 OMC
Calf Raises x 79 single count
Sgt. Rafael Peralta, awarded the Navy Cross for actions during Operation Iraqi Freedom. Born 7 Apr 1979.
Mary
Flutter Kicks x 50 IC  – No Help
V-Ups x 15 IC – Postal
Merkins x 25 OMC (or Calf Raises) – Shake and Bake
We didn't cover a lot of ground, there wasn't any running, the mumble chatter came and went as the legs allowed.  Most importantly, 3 men were able to come out and support each other and receive support from others in a setting that encourages men to build each other up (#ISI).  To the men who came out in the cold rain this morning, knowing exactly what was going to happen (#LEGDAY!!!), thank you.  And to all of those who have been checking on us and praying for us, the three unwise men, thank you.  Eternally grateful.
COT
Announcements
11/10 – Special Marine Corps Birthday edition of the Reaper
11/11 – Cheech 10K
Prayer Requests
BOM/Devo
To sum it all up, put your faith in God and when that truly happens you'll find that he will always provide.  His son, Jesus, overcame the grave…why would we ever think that he couldn't help us overcome our problems?  He has a plan for us (Jeremiah 29:11) and he is the way, the truth, and the life (John 14:6), just have to trust in him and grow our faith.