Today's playlist was inspired by the incredible masterpiece that is, "Last Action Hero"
4 pax decided that it was more important to show up for a Shark-infested Tornado rather than stay in the comfort of their fart sack.  Work was done and questions were asked…Big questions. More to come on that.
Still no new Anchor Shovel Flag, but YHC is busy working on one that will make its debut very soon.  Stay tuned.
Conditions: Absolutely perfect bell swinging weather.
COP:
15 SSH IC
15 TTT IC
15 BAC (each way) IC
15 KBS
The Thang:
3 rounds of each at your own pace with your kettlebell.
Round 1:
5 Thrusters
10 Goblet Squats
15 KBS
Round 2:
10 Curls
10 Goblet Squats
15 Chest Press
Round 3:
Same as Round 1
It was great to see Lamont back out at the Anchor gloom, for those of you who don't know, He toed the line at Anchor for many prosperous years.  It was quite serendipitous that have him there.  Thanks for posting, brother!
YHC was inspired to cultivate a musical playlist after watching the movie Pointbreak, you know, the one with Swayze and Keanu, not that new crap that came out a few years ago.  The soundtrack was sublime!  It also reminded me of another badass movie of the time which was Last Action Hero; one of Arnie's best roles (IMHO) with another awesome soundtrack.  I kind of made a concoction of the 2 movie soundtracks into one. You get the idea, here. 👇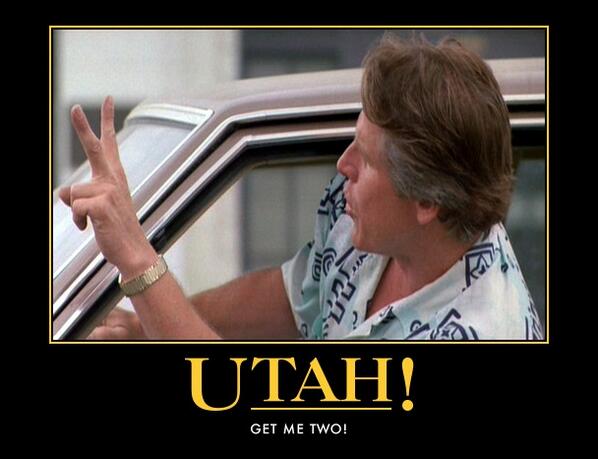 One common theme that did arise within the mumble chatter, was that we, as a society have gone soft.  And yes, I know, I know what you're going to say, "Yeah, but Shark, isn't that the whole point of F3? To invigorate the male population?" Absolutely, but what was discussed was more of a call to action of sorts.  We all are really good at posting on twitter, in DM's, on group texts, etc…but mostly during the workout hours.  There is still an entire day in which to fight off sad clown syndrome.
We have had some true moments of greatness within this F3 movement…Floods, Cheech, Walker, etc. One of the big questions was, why does it take a tragedy to show how awesome these pax are at moving mountains?  YHC pointed out that this has been discussed before and that is why convergences and coffeeterias are so incredibly important.
The F3 glue will hold during tragedy and during posterity but only if it's there, to begin with. -Sharknado

Deep discussion this morning by the pax.  Work was done and we are all better as a result.
COT, Counterama, Namerama
Announcements:
Dam to Dam Relay; Earlybird pricing increases after 9/15/2019  https://damtodamrelay.com/
True to Brew Half-Marathon https://runsignup.com/Race/SC/Spartanburg/TruetotheBrewTrailRunHikeHalfMarathon
Prayer Requests:
-Hurricane Dorian and that God's will be done and that we will be okay with that.
-Hall Pass's Raw Ass (per Lamont's request) 😂
-A general call to arms for men to step up and be men.
-Fiji's wife, Kimberly
Devo: What Do I Pray?
Ransomed Heart Ministries
What do I pray, Lord? What is this about?
Pause. This is a really, really helpful place to begin—to ask God what to pray. I don't know what's going on. I'm looking at the equivalent of a two-headed rooster on my windowsill. I don't know why God brought this up. So I ask him. Remember the disciples asking Jesus, "Teach us to pray"? Too many times we just jump in and start praying (making prayer speeches to God), and it doesn't have much effect. We just sort of swing our sword around in the air randomly. Do this for a while and you'll get the impression that prayer doesn't really work. Or that God isn't in it. Oh, it works, and he's in it. When we pray effectively. John says, "This is the confidence we have in approaching God: that if we ask anything according to his will, he hears us. And if we know that he hears us—whatever we ask—we know that we have what we asked of him" (1 John 5:14–15).
That's an awesome promise. If we pray according to God's will, he hears us all right. And he answers our prayers. Isn't that what you want? I sure do. I want to see my prayers work! I want to pray according to God's will. But I don't always know what that is, so, 
I ask
. This has absolutely revolutionized the way I pray. And I am seeing a lot more results, just as the scripture promised.