We have a strange habit of naming culverts, creeks and general watersheds after the plants they resemble on a map.  Around Forest Acres, we name things "Branch" because, well, they feed into Gills Creek so what's less significant than a branch?  Regardless, these often ignored waterways mark the low point in our local topography.  While the #Scramble #Faithful often heads south around Lake Katherine or north around Forest Lake, a tour of the tributaries affords more challenging terrain.
Conditions:  Hot & Humid.
TheThang:
From Trenholm Plaza, exit south onto Trenholm and cross to Converse for the bumpy straightaway to our first bridge at the bottom of Converse over Pen Branch.  Then right on East Buchannan and right again onto Brentwood for a second crossing of Pen Branch.  Up to Forest Drive, the local ridge line, right and left onto Atascadero for a welcome downhill to the bottom of Eightmile Branch.  Dead end into Willingham and turn right and follow it around to the right to the return crossing of Eightmile Branch.  Climb up out of the lowlands back to Forest Drive and turn left headed for home.  Jog it on out back to Trenholm Plaza for a seasonally adjusted four mile Monday hill day.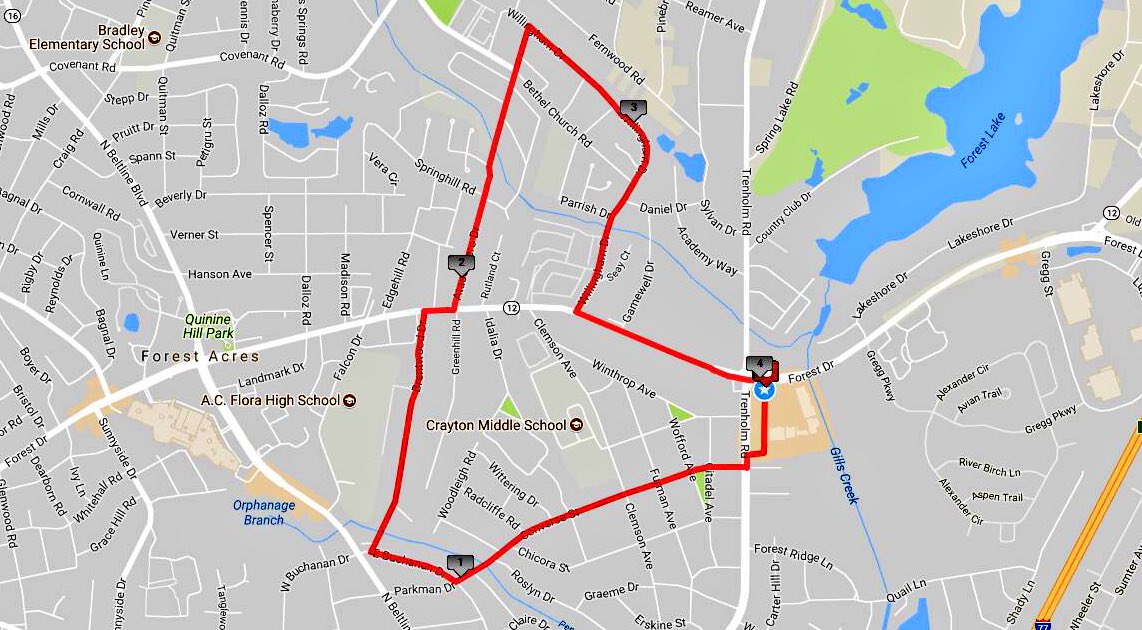 COT & BOM
NMM:
Good to be back again at #Scramble though this Ex-Nantan missed the more recent addition to the Ex-Nantan roster.  As was said in the COT, McLovin's earned a day or two off.  Congratulations to BillyBob who was announced as the next victim… I mean leader… of F3Columbia.  It was also remarked that the new leadership team consists largely of Hammer & Battle regulars which could be a cautionary comment for the future.
Next week begins the #CrazyTrain which is always a pleasure.
It was suggested and roundly supported that the 4th of July 4 miler should be the run of the day on that day.  YHC will be at the beach but will force Strom to run with me in celebratory honor.
And, last, YHC was quietly added to the old man Ragnar team.  As today testified, there's work to be done before October 5th.  My goal is to treat it like a half marathon on trails.  In the past I've used Furman University's "FAST" training plan because it dovetails so well with F3.  If anyone else would like to get on a plan like that, hit me up and we'll assemble a calendar.
Aye!
F'head