Conditions: Another cool summer morning, not too humid (79%), and a very moist field.  I don't know about you, but this recent weather has been getting me in the football, fall mood.
Warm Up
20x SSH
5 Burpees OYO
15/15 Baby Arm Circles
5 Burpees OYO
15 Through the Tunnel
5 Burpees OYO
15 Over head arm claps
10 Burpee penalty for Pot Hole being late.
Grab a block and head to big field field
Not that I don't like a good competition, but today we were going to do as many exercises together as a group.
On my way out the door this morning, I saw my portable speaker sitting there, alone, and looking like it wanted to party. Little did I know, it hadn't recharged its battery since its last party, so we had just enough juice for 2 songs, but 2 good songs they were. A little ACDC and Queen were a great way to start our journey together in the gloom.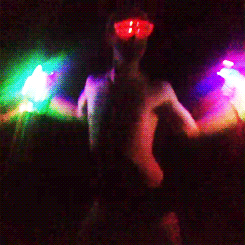 Together, One lap together around the big field. Once completed, everyone was stoked on the moist conditions and that their feet were soaked.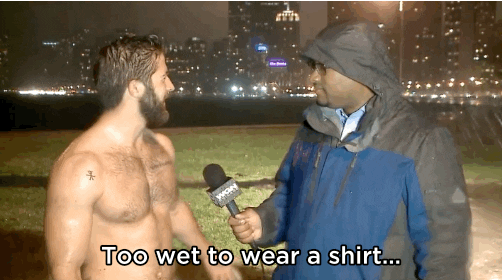 After Pothole's arduous leg workout on Tuesday, and the excessive complaining observed on Twitter of being sore, QIC was empathic, but not sympathetic. The goal of today's workout was to mix some holding positions and follow up with a comparable exercise within the same body region. It went a little something like this:
Together:
Cusack half field (fence to fence). Once we got to fence 1, we mixed in some overhead presses (x10 IC); We had to get back, so we returned with another Cusack.
To keep the blood flowing, we couldn't stop, but needed to run some, so we improvised and took a lap around the dry parking lot. Returned to the big field by our blocks.
Next exercise: High Plank, Hold for 60 seconds, followed by 10 Merkins IC
To keep the blood flowing, we couldn't stop, but needed to run some more. This time we switched it up again and did the big field, side to side.
Moving down the body, it was time to work some abs, so we held our 6 inches for 60 seconds, and it was longer than any pax have lasted before. "That's what she said" was alive and well this morning. This was followed by 20 flutter kicks IC
Bros don't let bros skip leg day. Al Gore's (no he did not invent the Internet) for one minute hold. Followed by Turkey Burger's request of 50 monkey humpers OYO. Yes, he was absent, working in Pennsylvania, but this BB and the daily Twitter threads are probably the highlights of his day.
Since we gave the arms a few minutes rest, it was time to do a brief arm workout. Breaking up Curls for the Girls: 10x IC low to halfway; followed by 10x IC up-high to half way; finishing up with 10x IC full curls.
Repeat: Cusack half field (fence to fence). Once we got to fence 1, we mixed in some overhead presses (x10 IC); We had to get back, so we returned with another Cusack.
Al Gore (30 secs) + 20 jumping squats OYO
High Plank, Hold for 30 seconds, followed by 10 Merkins IC
Back to reality of only lasting 30 seconds, held our 6 inches. Followed by 20 flutterkicks IC
Return blocks to pile followed by around the world for Mary.
To give us a preview of fall, the previous couple of weeks actually have dropped it into the lower 60s. It was kind of a 'just the tip, just for a second, just to see how it feels' moment. But, don't worry Summer #2 is just around the corner to crush your dreams of thinking Fall was here.
Ok, that might have been a little weird (just the tip), but not quite a weird as some of your obsessions with LaCroix, Truly, and White Claw. Michelob Ultra should also be thrown in there, that's not beer, but Stage Coach, Coppertone, and Tentpole can easily crush a 6-pack between the 3 of them.
Ok, enough of that. On a serious note, I've traveled around the sun just over 36 times and I couldn't be more grateful than I am to have spent 4 of those with F3, and proudly committed to Depot. A special thanks to Stage Coach for inviting me at an event for Chip Huggins back in 2015. As soon as I met SC, I knew there was something different about him and that it was definitely people, and not politics. He may be one of the few pax with his own Wikipedia page. (I wonder if he did it himself).
After I donated much of my net worth to Dr. Guy and the knee surgeries he performed, I concluded that my competitive sports days were over and I needed to find different ways to stay in shape. Little did I know, it would have created the valuable friendships that have encouraged me to get better, do better, and stay better.
I know I'm at home and at The Gloom when: I hear shots fired by Turkey Burger; Pothole complaining about someone's form (heard he was busting my balls this morning); hearing Coppertone saying "5 more minutes", reading Fools Gold's infamous back blasts; seeing STH rolling up 3 minutes late; watching the back of Chubb's head as he fades into the front at each workout; hearing Arrear's chuckle (boy, do I miss that…); Devito following up with "that's what she said"; Roommate sharing his love for Trump; Darla, Bout Time, and Tramp Stamp just being friendly to everyone; seeing Lumberg getting attacked by a pterodactyl (horse fly); seeing Hostel with his arctic gardening gloves; Moose discretely talking the most junk of anyone; the 'once per month' appearances by Blart; fist bumps by my fellow Indian, Soft..Toss; someone offering free chips and salsa at Thirsty Thursday, the list goes on!
Bottom line, I appreciate you guys, I enjoy my time with you each week, you've become brothers to me, and, I love you man…
Ok, I'm going to stop here. I don't know how Fools Gold finds the time to write his Back Blast Novels. He must start weeks in advance…
Prayer Requests:
For each other, safety, staying strong in our faith with Him; our families; and our journey.
Those in the path of Hurricane Dorian
Unspoken prayer requests
Announcements: (all by Fools Gold, because he can)
FG has the Q Saturday, looking for anyone besides Moose to Co-Q
How are you doing posting 150 in 2019? Fool's Gold has resurrected a challenge for 2019 F3LM150 Back to School Event.