Conditions
It was a frosty cold 29 degrees with dry conditions for the Pax to become one with the Depot asphalt. No mosey for this Penthouse Q but warmth was had by all. Thanks to the Men of Depot to fight the fartsack and posting for betterment.
Disclaimer/COP
The Pax of Depot were patiently waiting for YHC to arrive for his Q. A fashionable late entry, YHC announced his presence as Q and shared the disclaimer. It was great to see two FNGs in the gloom this morning and some Pax from the past.
Warm Up  
TTT x10 IC
OHAC x10 IC
LAC x10 IC (forward & Reverse)
Penthouse/Bellhop Shuffle (aka SSH) x5 All IC
It was awesome to see all the Pax doing this style of the SSH. It was like watching the Olympics. #SynchronizedSwimming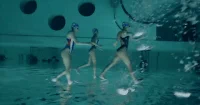 The Thang
I wanted to honor the Depot AO by Qing an F3 LAKE MURRAY DEPOT themed workout. Every letter represents a exercise. Here's how it went.
F – Flutter Kicks x20 IC
3 – Curls for the Girls x10 IC (3rd letter in alphabet is "C" + Curls)
L – Squats w/block x20 IC ( L= Legs) 3 count down, 1 up
A – Curls for the Girls x10 IC (A = Arms)
K – Block Swings x20 IC (K = Kettle Bells)
E – Burpees x10 IC (There's an "E" in Burpees)
M – Merkins x20 OYO (Proper form was had, he's watching)
U – BBSU x10 IC (You guess it…there's a "U")
R – Rosalita x20 IC
R – V-Ups x10 OYO (R for raising your legs)
A – Curls for the Girls x20 OYO (Again "A" for arms)
Y – Burpees x10 OYO (Why?? Just do it!!) A favorite for Lumbergh
D – Derkins  x20 OYO (Feel the burn)
E – Burpees  x10 OYO (One word – Lumbergh)
O – Overhead Presses x10 IC
T – 21s / Curls IC (T for Twenty one)
For the second part of the workout, YHC decided to have a group participation for all to Q and possibly lead one of their very own. Until then, I will be coached by the brothers…Next exercise is…Starting position…In cadence…exercise!! #ThanksBrothers #NoOxygen
Since the O2 was low at this point for too much movement and the sub freezing temps, YHC memory is a bit blurred. This what occurred next.
Squats – Proper form please
Merkins
LBCs
Iron Crosses
Chess Presses
Bentover Rows w/Fence
Skull Crushers
Chess Press w/ flutter kicks
No time for Mary. Circle up at the SF for COT.
We had two FNGs this morning…Welcome FNGs!! Chris Smith – Citadel graduate – nickname at Citadel – PoohBear – F3 Eeyore. Joe Reinhardt – security professional – F3 Whitney. Welcome Eeyore and Whitney to F3 Nation and the Men of Depot. Your lives will be forever changed from this point forward.
Prayers
Son of Brother Si's friend.
The young man at Dutch Fork High
Unspoken
#DRP #ISI SYITG